A contemporary, spacious and beautiful home in Noida by MAD DESIGN
The residence for a big family should ideally be spacious, stylishly lit, trendily furnished and tastefully decorated. It should be both functional as well as cosy. And this home rendered by the interior designers and decorators at MAD DESIGN is exactly that! Equipped with elegant furniture, soothing colours, attractive lighting and smart distribution of spaces, this residence will inspire you in more ways than one. Multiple living areas, a very stylish open kitchen, soothing bedrooms and a large refreshing terrace make this property one of a kind. You will also come across a very convenient laundry room, space-saving storage solutions and cosy textiles that make everyday life a dream! This project designed and exected by MAD DESIGN is Located at Prateek Stylome in Noida!
A serene way of life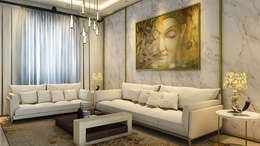 This 
modern living room
 is dominated by white for a peaceful and bright look, while the Buddha painting on the feature wall lends a serene effect. Cosy sofas, soft lighting, and a cutting-edge coffee table complete the look.
Classy in grey
Elegant temple
Ultramodern kitchen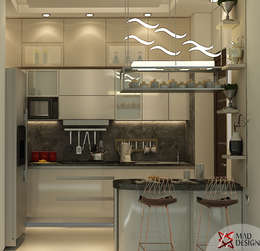 Rendered in soft neutrals and with neat lines, this 
trendy kitchen
 is both functional and visually appealing. Smooth cabinets, modern appliances, stylish lighting, convenient wall racks and a chic breakfast counter make this kitchen a stunner.
Sensible laundry room
Soothing haven for dreams
Classy and retro
Minimal yet cosy
Funky room for kids
Very practical and warm
Terrace with a view
Please feel free to REQUEST FREE CONSULTATION if interested!